Thrift Tales #3: October 2020
Another month has gone by with COVID-19 still a thrifting deterrent, for me anyway. That means my secondhand shopping consists of mostly antique malls, consignment shops, flea markets, and the like – mostly booth rental places. I am certainly missing the deals that come with thrifting at charity shops or fundraiser sales! However, I can't be too blue because I did manage to get one of my elusive "white whale" items…
Make that two.
I love View-Masters. I don't know exactly why. I had them as a kid, but it wasn't like I was particularly "into" them or anything. As I think about it here now, I guess my fascination with them is as a means of looking directly into the past. Obviously, I adore old things! I love how they represent our history, how far we have come, and how we faced challenges and overcame them in the past. View-Masters were originally intended mostly for educational and tourism purposes, either as a postcard substitute or a way to sight-see notable travel destinations and famous landmarks from the palm of your hand. It's interesting to me to see its journey from that, to even a US Military training tool, to the children's toy it is still today.
The black one is the older of the two and is a Model C, which was produced between 1946 – 1955. The black casing is made of bakelite, which was the world's first synthetic plastic. Bakelite items are collected by some just out of sheer appreciation of the material itself.
The beige one is a Model G. Some sources I found claimed this production run began in 1959, while others said 1962. It ran through 1977 and there were several variations on this model during its time.
The Model C came with the original box and between both I got the following reels:
Switzerland Interlaken Region II
Colonial Williamsburg (Reel 2)
Disneyland Adventureland (Reel 3)
Disney Favorites: Fantasyland (2 of these)
Snow White and the Seven Dwarfs
Walt Disney's Mary Poppins (Reel 2)
Palm Springs California
Great Smoky Mts. National Park Tenn.
Shenandoah National Park Skyline Drive Virginia (Autumn)
Palm Springs California
Greater Miami Florida packet with 3 reels
State Tour Series: Illinois packet with booklet and 3 reels
I have hoped to find a vintage View-Master while thrifting for a long time. It's not like it's a particularly valuable or rare item or anything – I just have not run across one secondhand and I have had it on my mental "things to look out for" list for a while. I wanted to find one organically – hopefully cheap, at a fun estate sale or in the neglected toy corner of a charity shop. I ran across these two being sold separately at a consignment store I frequent (I even posted the Model C in my gallery for last month's Thrift Tales post). The price was reasonable, but it was "eBay reasonable," not the super-cheap dream thrift I had in mind. This store drops prices according to a schedule though, so I marked the rock-bottom date on my calendar and decided to go back then and purchase at least one of them if they were still available.
The day came and there they were still. I brought the Model C home and I loved it so much I had to go back for the Model G. The two viewers, reels, and box cost about $18 total. I hope to find more of these fun little relics in the future, but in the meantime I plan to explore them more in-depth in a future post.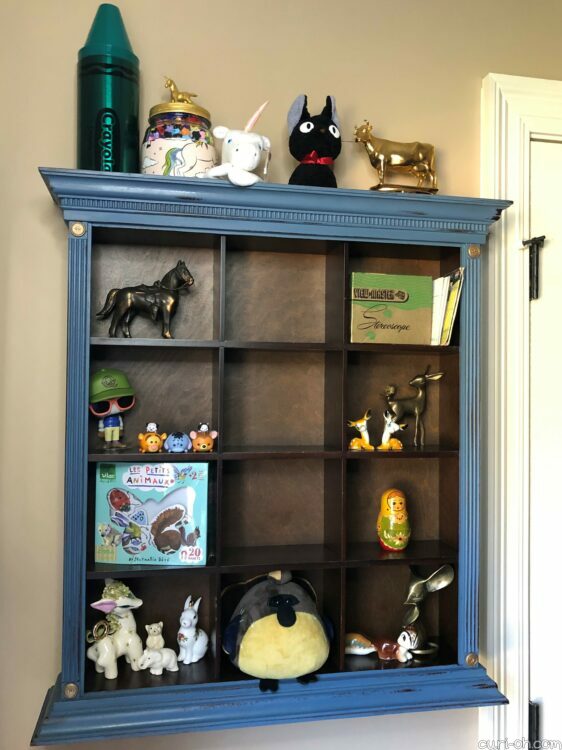 My next purchase was this gorgeous wooden shelf. If you do much secondhand shopping, you know how common shelves are with tiny spaces for miniature items – but I have not seen a shelf with such generously sized cubbies before! I threw a bunch of stuff I had on there for now, but wow! I have so much space I can fill up here. It's the perfect size for Funko Pops!
The shelf is another item I kept going back to. I found a picture of it on my phone from December of last year and honestly I could have been checking it out even farther back than that. I looked for it every time I went in the store until finally I realized that probably meant I needed to buy it! I'm not an impulse shopper – which has led me to some thrifting regrets for missed items – but it's safe to say we were pretty far from an impulse buy at that point. Besides, the cubby spaces are perfect for my new View-Masters! That was how I rationalized it anyway. It cost me about $50, which I am very pleased with considering its uniqueness, condition, appearance, and material.
I almost forgot this last item. I did forget to put it in the header! He is a bit forgettable though. Maybe that is why he looks so sad.
This is a vintage leather dog coin purse kit. It's not a very practical item, but I paid $3 and some change for it because I thought it would be fun to complete. I will show it here on the blog when I do. I'm thinking I may use leather paint to give him a happier facelift.
So I guess my personal moral for this month's story is: if you keep going back to an item time and time again, you should probably get it! And I'm so glad I did this time.
As usual, here is my gallery of favorite finds left behind.