Thrift Tales #8: Back At It
Hello, hello! I'm back with another entry in my "Thrift Tales" series. I had my first estate sale day in… years, I think? In the past I did them frequently, but with the Covid-era followed by pregnancy and then new adventures in parenthood, it's just not something I've been able to do for quite a while. Now my little one is old enough and loves to be out and about with the family, so I'm back at it again!
I also hit up one of my favorite antique malls a couple of times recently and walked away with a few treasures, so I'll start there with my absolute favorite…
"La Touraine" Oil Painting by J. Duflot, 1959, $240
I don't have much real art in my house, so I felt quite fancy buying this. I saw this months ago and then here it still was. I do see plenty of art secondhand. Very rarely do I ever really love any of it and even more rarely do my husband and I both agree on art. He liked it too though, so we decided to splurge. The vendor gave me a deal down from $300, so I picked this beauty up for $240.
I could not find much on the artist, but it is signed J. Duflot and dated 1959. "Touraine" is a historical region of France which was divided in the late 1700's. According to its Wikipedia page, it takes its name from a Celtic tribe and is known as "the Garden of France," famous for its many beautiful castles. I found a few examples of this blue spire style architecture, so it could be Château d'Amboise or possibly Château d'Azay-le-Rideau, both of the Loire Valley. Château d'Amboise is believed to be the burial place of Leonardo da Vinci.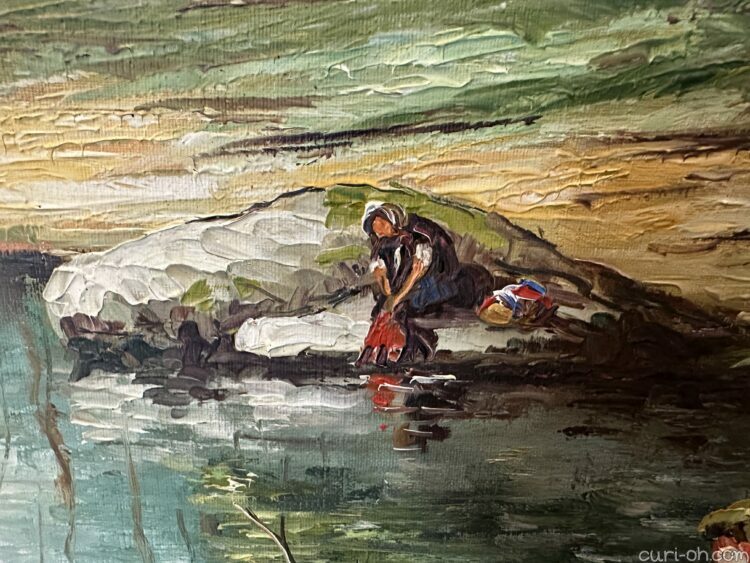 I love the serene medieval feel of this oil painting. I'm a fantasy nerd, so I'll let my imagination run wild between the trees of this enchanting forest.
I removed a few likely coffee splatters gently with a wet cotton swab. However when I attempted to wipe the frame with a barely damp cloth, the paint came off the wood instantly. Unfortunately that meant I had to strip the entire frame as a result. That didn't take much effort because it came off so easily, but now I have to paint it and I have no idea what to do there. I wasn't looking for a project! I don't think the bare wood color suits it though and my wall is beige, so I'm hesitant to paint the frame beige. I'll update this post when I figure out what to do.
Rooster Original Painting, $40
Before I purchased the previous beauty, I bought this gorgeous painting of a rooster. I love the vibrancy of the colors. My kitchen doesn't have many spaces for art, so I need to be impactful with the few spots I have. It's in eggcellent condition (roosters don't lay eggs, I know, don't come at me). I can't wait to hang it over my vintage handmade pie safe!
Avon Perfume Bottle, Unicorn, $12
There are so many varieties of Avon perfume bottles out there. My sister pointed this one out, but didn't want to buy it – thankfully! I love it. I adore the giant swirly horn and the look of it makes me think of the famous tapestry series, "The Hunt of the Unicorn."
Vintage Cow Creamer, Made in Japan, $12
I've always loved these vintage cow creamers. You can probably go to Walmart right now and get one in this same basic shape, but this one is vintage and was made in Japan. My family owned Jersey dairy cows so they always invoke my nostalgia. This one has the coloring of a Jersey and with those peacefully drawn eyes, I had to bring her home.
. . .
That's it for store-bought finds. Moving on to our estate sale day, one beautiful spring afternoon the crew and I hit up three sales. Two of them were at the end of day two and the last at the end of day one. If you do this much you know how it is: you really need to be there when the gates open on day one to get the good stuff. However, as estate sales go on, prices slash, and second day often runs half off, so you can get some great deals. Sometimes neat items find their way to the forefront too as the flashier goods make their way out.
We did a lot of driving about and my mom and sister had great hauls, but I personally only walked away with two items for the day.
Kitschy Miniature Lady Figurine, $1.50 (Napcoware)
I don't know why I bought this. I hadn't found anything at this point, here at the end of the second sale, and we weren't even sure we would make the third one in time. Maybe I just wanted to feel like I was finding things too. I don't usually go out for "people" and am definitely not a doll person. I just thought she was cute and liked her eyes. There are no markings. (UPDATE: I've since found that she is by Napcoware.)
Rainbow Toucan on Perch, $6
For the last sale of the day, we went to a waterfront property with a boat dock. It was a 1980's build and hadn't been updated. There was a sunroom overlooking the water dressed in '80's Florida-style decor, though not quite as glamorous as the Golden Girls! I never think to look up toward the ceiling, do you? Well my sister did and spotted this cheerful guy perched in the corner. She has found so much great stuff lately, maybe I should just follow behind her and scavenge. Anyway she didn't want him, so I scooped him up.
I wouldn't say that he matches my aesthetic by any means. I'm not a huge fan of coastal themes, rainforest stuff, or '80's kitsch, but I do like bright colors and happy oddities and he spoke to me in that language. He is sort of tacky but unapologetically so and I adore him.
He has no markings. I found similar ones online that claimed to be hand-painted in Mexico during the 1980's, so maybe that's his history too. The owners had lots of travel souvenirs.
When my husband saw him he said, "Uhhh, where do you plan to hang that?" We'll see! All I knew was that he had to come home with me. I'll update this post when I find a fun place for him.
UPDATE: Hanging out!
That wraps up my most recent finds. It felt good to be doing something I love again with people I love. One of my favorite parts of motherhood is having a new person to go have fun with. I'm thrilled my buddy is such a happy little adventurer. Hopefully he will enjoy these types of outings with Mom for many years to come.
As always, I'll leave you with a few neat items I left behind. Cheers!